Source: www.bloomberg.com
Millennials' seemingly unquenchable thirst for coffee is helping to push global demand to a record just as supplies are tightening.
Americans are becoming java junkies at an earlier age, and young adults are increasing their daily consumption at a fast enough pace to make up for declines by older folks. The result: Demand in the U.S., the world's top user, is set for an all-time high, and the trend among younger drinkers is also playing out in other big consumers including Brazil and even tea-loving China.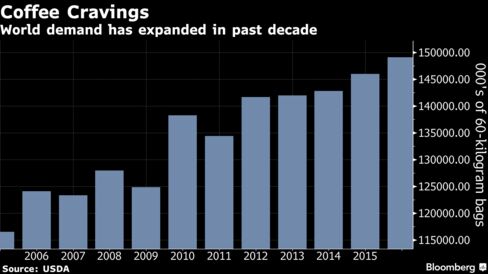 Consumption is climbing as drought crimps supplies from Brazil, the world's biggest producer and exporter. Prices for the arabica variety surged to the highest since February 2015 last week in New York. Hedge funds are positioning for more gains, increasing their bets on a rally to the highest in eight years. Demand "has been running well above expectations, thereby tightening coffee markets significantly," said Harish Sundaresh, a portfolio manager and commodities analyst in Boston for the Loomis Sayles Alpha Strategies team, which oversees $5 billion.
Fund Wagers
The coffee net-long holding jumped by 18 percent to 50,651 futures and options in the week ended Oct. 25, according to U.S. Commodity Futures Trading Commission data published three days later. That's the highest since March 2008. Arabica coffee surged 6 percent to $1.655 a pound last week on ICE Futures U.S. in New York, the biggest gain since July. Prices traded at $1.6405 at 10:28 a.m. on ICE.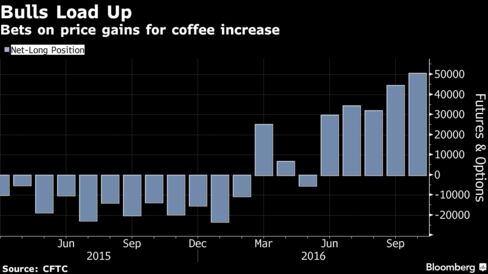 Millennials -- a cohort of young people now aged about 19 to 34 -- account for about 44 percent of U.S. coffee demand, according to Chicago-based researcher Datassential. In the eight years through 2016, daily consumption among 18- to 24-years-olds rose to 48 percent from 34 percent, while it climbed to 60 percent from 51 percent among those aged 25 to 39, according to the National Coffee Association in New York. At the same, adults 60 and older saw a drop to 64 percent from 76 percent, and there was also a decline for the 40-to-59 age group.
The coffee craze is also starting earlier in life. Younger millennials, born after 1995, started drinking coffee at about 14.7 years old, while older millenials, born closer to 1982, began at 17.1 years, data from the association show. Take the case of William Tuesca, a 21-year-old junior at Parsons School of Design in New York. He started drinking coffee when he was 5 and now drinks two or three cups daily, even more during mid-term exams, he said.
'Fashion Symbol'
"In school, drinking coffee is also like a fashion symbol and an opportunity to socialize," Tuesca said.
Gains for demand mean that in the 12 months ended Sept. 30, world consumption outpaced... 
[

read the full article here

]